Ein schokoladiger alter Eintrag
Kelli
is hosting
SHF # 13
. She challenges us to "try a different recipe or add a twist to one of our" favorites. It was the chance to experiment. First I baked a triple mousse cake. I was inspired for this cake from
nordljus
' "
triple chocolate mousse
" and "
in the pink
" entries.
Else, I tried
black

&

white

panna cottas.
For the black side I used dark cuverture and coffee. The white side has a vanilla aroma because of the vanilla bean in it. Here are my examples with diffrent looks: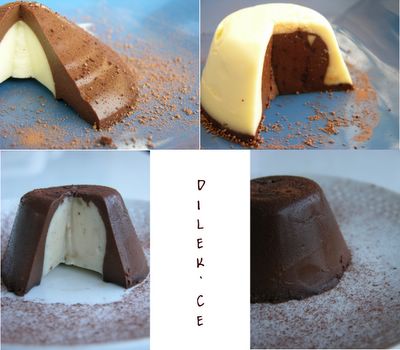 Triple

chocolate

mousse

cake
It was my first work with mousse. I avoided till now work with uncooked eggs. I searched for mousse recipes and began to work hard. The first layer is with dark chocolate. This is the best mousse. The second one is a nougat mousse, you see it isn't jelled very well. The last layer is with almond paste and white chocolate. It was a succesfull experiment, although I thought it could have been looked better, the cake was very delicious.